I included examples of apps as my background research for the development of my app. I wanted to see what apps have already been made and how they are useful for customers.
10 nutrition and diet apps for 2017
The smartphone in your pocket is a miracle of modern science. Its processing power is millions of times greater than that of the machines NASA used for the Moon landings, and it connects you to a worldwide network of over 3 billion people. Today's best diet apps leverage the power of your smartphone to help you take control of your nutrition and health through better eating. We tested 10 of the most popular weight loss app choices for Android and iPhone (iOS). Here's a breakdown of those choices, and a look at their pros and cons. While a few of the diet apps in this list are calorie counters and food diaries with  added bells and whistles, we've made sure to include innovative and unique options as well.
Remember that the true measure of an app's worth is if it helps you to make healthy changes. If an app doesn't motivate you to improve your diet, it's not much more than a time-waster.
Nutrition & diet apps for Android & iPhone
The star ratings listed in this article are based on user reviews, and not our own opinions. Note that we've rounded the ratings to the nearest half-star.
1. HealthyOut
Android: free, 4 stars
iOS: free | 4.5 stars
Americans tend to eat out a lot, and at restaurants and take-out joints people often give themselves a "hall pass" from healthy eating. This can results in a reversal of hard fought gains from good eating habits.
But eating out doesn't have to be a guilty pleasure. Many restaurants offer healthy options that align with even the strictest eating plans. HealthyOut helps you find them. It provides access to menus of local restaurants, and matches items on their menu to your dietary needs and preferences.
The app is feature rich and has a large database of restaurants. That said, its database of restaurants and menus isn't quite as comprehensive as one might hope. For instance, Starbucks is conspicuously absent from the app.
2. Calorie Counter & Food Diary
Android: free (full functionality unlocked with subscription) | Rating: 4 stars
iOS: free (full functionality unlocked with subscription) | Rating 4.5 stars
Calorie Counter & Food Diary by MyNetDiary is one of several popular food diary apps. To get the most out of the tool, enter your nutritional goals or weight loss goals, and use features within the app to plan your meals and monitor your adherence. Useful features include the ability to scan supermarket barcodes to get nutritional information that helps you make smart choices while grocery shopping, and the tracking of macronutrients such as carbohydrates, protein, and fat. In fact, you can track your intake of 45 separate nutrients.
What makes this app stand apart is an elegant user interface that makes entering your food intake fast and easy. This is important because people are bound to abandon a food diary app when it becomes too troublesome to use. This app also lets you track your fitness regimen, and is compatible with fitness trackers like FitBit.
For some users, cost can be a concern, because full functionality is not unlocked without an annual subscription of $40 per month.
3. Food Intolerances
Android: $4.99 | 4 stars
iOS:$5.99 | 4 stars
Food Intolerances is focused on aiding people with allergies and food insensitivities. It's targeted at people with conditions such as histamine intolerance, mastocytosis, fructose malabsorption, sorbitol intolerance, gluten sensitivity, and lactose intolerance. The app contains a database of hundreds of foods, and will tell you whether a particular food is compatible with your allergies or food sensitivities.
One of the app's faults is that it doesn't contain databases of particular products, but rather broad categories of foods. For instance, it doesn't distinguish between Kraft's macaroni and cheese and Annie's brand macaroni and cheese. We also noticed that the iOS version of the app is more feature rich than the Android version.
4. Waterlogged
iOS: free (full functionality requires upgrade to premium version) | 4.5 stars
Strictly speaking, water isn't a nutrient or a food, but proper hydration is essential to your wellbeing. Waterlogged helps you make sure you're getting enough water by allowing you to take pictures of your drinking vessels to quickly and automatically log your water intake. The app also allows you to set up reminders to drink fluids, and can help you quickly assess your hydration with handy graphs.
Weaknesses include the fact that some features require an upgrade to a premium version, and also the fact that the app is only available for iOS right now. A similar app for Android with the same basis is WaterLog.
5. Nutrients
iOS: $4.99 | 4 stars
Another popular nutrients database and diet tracker is Nutrients. Nutrients contains the nutritional info for a wide range of foods and a food journal which makes tracking your food intake simple. One favorite feature is the ability to enter your recipes, and get an instant nutritional breakdown.
One deficiency as of this writing is lack of availability on Android. Some reviewers have also complained that the nutritional browser lacks some foods, although we didn't encounter any notable absences in our testing.

6. Shopwell
Android: free | 3.5 stars
iOS: free | 4.5 stars
Shopwell is a standout app that helps you make healthy choices at the grocery store. Enter your fitness goals, nutritional requirements and foot sensitivities when you setup the app. Then, as you shop, you can scan the bar-codes of items you're considering for information about the nutritional content, added sugar and sodium, and more. You can also take photo of your receipt or store loyalty/rewards card for a full analysis of all the food you've purchased and how well it aligns with your nutritional goals.
One drawback is that while most major grocery stores do participate, some favorites, like Trader Joe's are absent.
7. Calorie Counter & Diet Tracker by MyFitnessPal
Android: free (full functionality unlocked with subscription) | 4.5 stars
iOS: free (full functionality unlocked with subscription) | 4.5 stars
Calorie Counter & Diet Tracker by MyFitnessPal is oriented toward weight loss, and is one of the more popular apps for tracking your food intake. It's got a database of 5,000,000 foods and dishes you can use to quickly log your meals, and the user interface is simple and intuitive. One disadvantage is that some of the most useful features require a subscription of $10 per month or $50 per year.
8. MyPlate Calories Tracker
Android: free (full functionality unlocked with subscription)  | 4.5 stars
iOS: free (full functionality unlocked with subscription) | 4.5 stars
MyPlate Calories Tracker is full-featured subscription-based diet app. It contains a nutritional database of 2 million items, and includes the ability to track calories, macronutrients and water intake, and see if you're meeting your diet goals. You can also generate graphs and charts that help you to visualize and assess your food habits.
While their nutritional database is large, it's not as comprehensive as the aforementioned app MyFitnessPal's Calorie Counter & Diet Tracker. And unlike MyNetDiary's Calorie Counter & Food Diary, you cannot track exercise.  Like both those tools, full functionality requires a subscription ($9.99 per month or $44.99 per year).
9. Fitocracy Macros
iOS: free | Rating: 3.5 stars
Macronutrients include carbohydrates, proteins, and fat. Many nutritionists recommend that health-conscious individuals aim for a healthy diet with the right ratio of these "macros". Fitocracy Macros allows you to track your input of these macronutrients in addition to your caloric intake. While tracking of macronutrients is a feature in some of the other apps we looked at, in this app they are the focus.
One drawback is that you need to check the macronutrients content of your meals and enter these figures manually. Another is that the app is currently only available for iOS. Android apps with similar functionality include Simple Macro and Calorie Counter – Macros.
10. Carbs Control
Android: $2.99 | 3.5 stars
iOS: $2.99 | 3.5 stars
As its name suggest, Carbs Control is designed to help you monitor your carbohydrates, and may be a good choice for diabetics or those on low-carb diets. You can track daily carb intake, as well as look at a meal-by-meal breakdown. As you look up the carbs totals of the food you eat, a food diary is created automatically. Its database of 100,000 foods is not as large as some of the subscription nutrition apps we described. But for a single payment of $2.99, it's considerably less expensive.
Carbs Control may be a good food diary choice for those who don't need all the features of costlier subscription apps, or for those who are especially focused on carbs and aren't as concerned about monitoring other nutrients.
https://wa-health.kaiserpermanente.org/best-diet-apps/
The internet is overflowing with dubious diet advice. New "healthy" fads pop up constantly. It can be challenging to figure out what's actually good for you.
From finding healthy foods in the grocery store to tracking your daily intake, apps can help you eat better and hit your goals. Food tracking apps are particularly helpful.
Tracking your food can not only give you an eye-opening picture of what you're really eating each day, but it can also improve weight loss. A medical journal review from 2011 found that keeping a food diary can improve weight loss.
But you don't have to log everything by hand to get the benefits. A couple of small studies in the Journal of Medical Internet Research and Obesity Research & Clinical Practice have found that an app can work just as well as an online or paper food journal.
Here are this year's top picks that'll make it easy to eat healthy and track your goals.
CARBSCONTROL
CarbsControl
iPhone rating: ★★★★✩
Android rating: ★★★★✩
Price: $2.99
Take the hassle out of counting carbs. Whether you're managing your blood sugar or following a low-carb diet, CarbsControl helps you easily see what percent of your day's calories have been from carbohydrates, fat, and protein so you can manage your intake. You can also set customizable goals and break down your carbohydrate allowance for each meal or snack to help you stay on target.
FOOD INTOLERANCES
Food Intolerances
iPhone rating: ★★★★✩
Android rating: ★★★★✩
Price: $4.99
Grocery shopping can be especially frustrating when you have to consider food sensitivities and allergies. Food Intolerances makes it easy to quickly look up what you can eat. It'll also help you avoid foods that'll make you feel miserable. The app includes common intolerances like gluten sensitivity, lactose intolerance, or high-FODMAP foods. You can explore foods by category or search them directly to get a breakdown of how they might affect your sensitivity or allergy. Set a filter to remove the foods you (or a guest) can't eat to create a helpful list of foods to munch on.
NUTRIENTS
Nutrients
iPhone rating: ★★★★✩
Price: $4.99
Get a full-blown nutrient breakdown of every food you eat. From big picture calories and fats to vitamin and mineral content, Nutrients has comprehensive nutrition data for thousands of foods. It's easy to look up just about any food. Customize the serving size so you know what you actually ate. Add your own recipe to see your meal's full nutrition data. Discover if you're hitting your daily recommended values for vitamins and minerals with the app's daily food journal.
HEALTHYOUT
HealthyOut
iPhone rating: ★★★★★
Android rating: ★★★★✩
Price: Free
Eat out without the guilt or using a cheat meal. HealthyOut helps you find healthy options at your local restaurants. You can filter by particular diets like low-carb, Mediterranean, or paleo to find a dish that fits your taste. The app also suggests easy modifications to the recommended dishes so you can boost the nutrition of your meal. This app will also help you get ideas for what to ask for at your favorite restaurants.
MYFITNESSPAL
MyFitnessPal
iPhone rating: ★★★★★
Android rating: ★★★★★
Price: Free
You don't need a math degree to count your calories with this helpful app in your pocket. MyFitnessPal boasts the largest food database. Quickly find what you're looking for and add it to your daily tally. The app saves your favorite foods so you don't have to constantly search for the things you eat regularly. A feature lets you import recipes to get a full nutritional breakdown of your home-cooked meals.
Waterlogged
iPhone rating: ★★★★★
Android rating: ★★★✩✩
Price: Free
Are you drinking enough water? Chances are the answer is no. Drink more water throughout the day by logging your intake and setting helpful reminders on this app. It takes less than a minute a day to track your daily intake with Waterlogged. Simply take photos of your water before you start sipping and save your most common glasses or bottles for easy selection later. A bottle graphic lets you quickly check in on your goal throughout the day.
SHOPWELL
ShopWell
iPhone rating: ★★★★★
Android rating: ★★★✩✩
Price: Free
Eating better starts in the grocery store. Learn how to decipher food labels and choose healthy foods with ShopWell. The app gives you personalized food recommendations based on your goals and dietary restrictions. A handy scanner quickly alerts you about foods you're allergic to or trying to avoid. You don't have to read every last word on the package while you're shopping with this app. It also gives you suggestions for healthy foods in your preferred store and scores how well you're doing at shopping for nutritious foods.
FITOCRACY MACROS
Fitocracy Macros
iPhone rating: ★★★★✩
Price: Free
Macro trackers rejoice! This easy-to-use app tracks your daily macronutrients — carbohydrates, protein, and fat — so you can see the big picture of your diet without pulling out a calculator. A clear summary graphic means you can check how many macros you have remaining with a quick glance. A full history feature allows you to look back and dial in your nutrition. It's also easy to set different macro goals for training and rest days. macronutrients you need each day, it can help you calculate that as well.
MYNETDIARY
MyNetDiary
iPhone rating: ★★★★✩
Android rating: ★★★★★
Price: Free
This app is one of the best food diaries for people trying to lose weight. MyNetDiary has you pick a weight goal before it analyzes your daily logs and gives you personalized diet advice. You can customize the home screen to include the nutrients that matter most to you — like sodium, fat, calcium, or calories — for a snapshot of your daily intake. It also lets you track body measurements, lab results, and symptoms to see whole picture and track your full progress.
MYPLATE
MyPlate
iPhone rating: ★★★★★
Android rating: ★★★★★
Price: Free
Eating better and hitting your health goals is easier when you have a whole community supporting you. While the app is great for food and exercise tracking, its active community is what makes MyPlate truly stand out. Connect in real time with people who have similar health or fitness goals for a boost of motivation.
---
Mandy Ferreira is a writer and editor in the San Francisco Bay Area. She's passionate about health, fitness, and sustainable living. She's currently obsessed with running, Olympic lifting, and yoga, but she also swims, cycles, and does just about everything else she can. You can keep up with her on her blog (treading-lightly.com) and on Twitter (@mandyfer1).
My Diet Coach Weight Loss Booster, Calorie Counter
My Diet Coach is another Swiss army knife kind of nutrition app – which means that, in case this figure of speech flew right over your head, it is loaded with features, several of which are at your disposal for free. My Diet Coach's healthy eating-inducing features include a calorie calculator, a visual weight loss tracker, personalized diet reminders, a diet diary, motivational photos and daily inspirational quotes, a custom avatar that slims down with you, awesome rewards for making healthy lifestyle choices, daily challenges, a barcode scanner, a recipe calorie calculator, a wide range of tracking tools, and last but certainly not least perseverance tips and a Food Craving Panic Button tailor-made for emergency situations. Scoring this impressive list of features requires a subscription that costs either $2.99 per month or $19.99 per year.
Food Monster – 5000+ Vegan Recipes
Having been launched by the biggest plant-based and vegan food recipe website on the interwebs –  a website that also happens to be a multifarious platform targeting the eco-conscious generation -, it is the least bit surprising that Food Monster trots out a monstrous collection of vegan recipes. From this vast recipe collection, 500 are at your disposal for free, but by sacrificing a measly $1.99 per month to the Food Monster, the benevolent beast will grant you access to an additional 8,000 vegan recipes and more than 10 daily recipes delivered to you on weekdays. To ensure that you find the vegan meal that fits your current cravings or a specific special occasion, you can not only narrow down your searches and browse recipes by diet, occasion, meal type, or ingredient, you can also discover seasonal favorites, popular themes, and recipes handpicked by One Green Planet's editors.
FoodPrint™ Diet by Nutrino
Despite the fact that you can access many of FoodPrint™ Diet's features without spending a single dime, the rather naïve proverb that states that the best things in life are free does not ring true in the case of this outstanding nutrition app; so to get a little extra you have to give a little extra. You can choose from 3 subscription plans: $7.99 per month, $18 for three months, or $40 per year. What you get for your hard-earned cash is personalization galore: personalized diet plans, personalized weight loss plans, personalized meal and suggestions, and personalized dietary, health, and fitness tips. You can set all sorts of dietary goals from reducing body fat percentage to gaining muscle mass, and you can log, monitor, and compare daily and weekly nutritional and health breakdowns to see how far you've come and to keep yourself motivated. To top it off, FoodPrint™ Diet packs complete diabetes support, full nutrition support for pregnant women, and last not least a feature called "Eat Out" with which you can find healthy restaurant meals near your location and get full nutritional information for each recommended dish.
YAZIO Calorie Counter, Diet & Nutrition Tracker
Trotting out an immense selection of features covering basically all aspects of healthy eating, YAZIO perfectly fits the mold of versatile iPhone nutrition apps. By downloading and registering YAZIO for free, you'll get personalized diet plans optimized for a pair of goals that couldn't be any more different (losing weight and building muscles, to be exact), a food database with more than 2 million foods, a barcode scanner, comprehensive nutrition tracking (calories, fat, protein, and carb), exercise and activity tracking, burned calories tracking, a pedometer, and seamless synchronization with Apple's integrated health app and an assortment of fitness apps. For more advanced features – such as additional nutrition tracking tools, body fat, blood pressure, and blood sugar tracking, and last not least nutrition-specific meal plans (e.g. high protein, low carb) -, go pro for $19.99 per 3 months, $29.99 per 6 months, or $39.99 per year.
Nom Nom Paleo
Nom Nom Paleo is an award-winning nutrition app focusing on a diet that's gained just as much popularity in the last few years as veganism, and that diet is paleo. Nom Nom Paleo brings you more than 145 gluten-, soy-, and refined sugar-free recipes with high-resolution photos showing you each step of the cooking process, an in-depth shopping guide so that you avoid foods that no caveman or cavewoman in their right mind would approve of, a Whole30-friendly, one-month sample meal plan with links to recipes to give you a taste of the paleo lifestyle, and we could go on until mammoths are finally resurrected via genetic engineering. Nom Nom Paloe costs $5.99, but if you're serious about joining the paleo tribe, it is definitely money well spent, and Nom Nom is undoubtedly the best iPhone nutrition app for aspiring cavemen and cavewomen.
http://cloud.achica.com/wp-content/uploads/2016/01/22121927/Kafoodle_630.jpg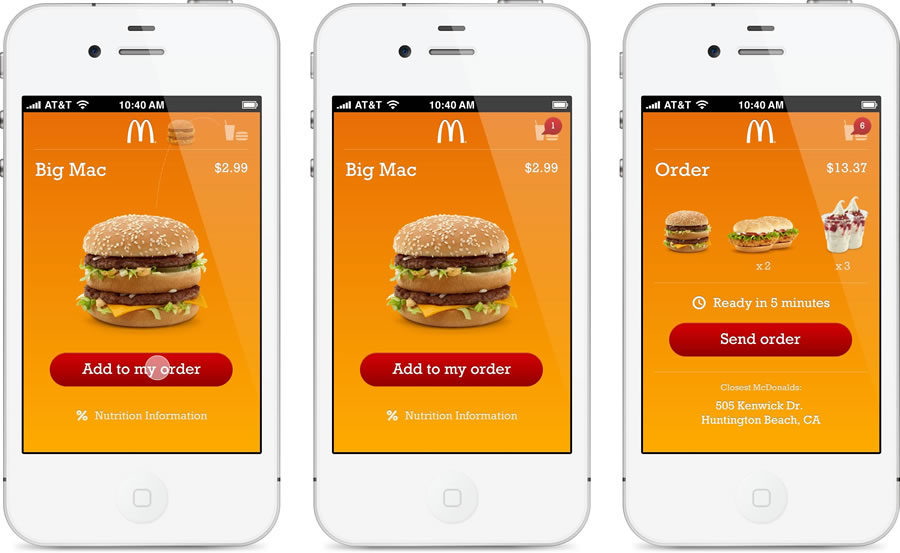 https://dealnews.a.ssl.fastly.net/files/uploads/details-mcdonalds-ordering.jpg